(originally posted on 21 April 2018)
For the past three years I have longed and longed for my very own dog. I am a HUGE dog lover and have had dogs growing my up whole life since the day I came home from the hospital. For 18 years I always had a furry friend. When I graduated highschool, joined the military, and moved states away from my family, leaving all my fur babies wasn't easy.
As the time between when I left home grew greater my longing for a companion grew and grew. I would physically get sad when I'd see pups out at the dog park with their owns or when I passed a pet store and couldn't bring home a dog with me.
Almost one year ago I officially moved into my first apartment which meant I could officially become a dog mom! Almost right away Andrew moved in and I immediately begged him for a dog. He continuously asked me to wait until our living situation was more appreciate for a big baby.
I had my heart SET on a brand new, boy, brown chocolate lab. And I mean my heart was completely set.
This was apparent to everybody who knew me, especially Andrew.
So when he began asking me one night in late February, "so, what kind of dog do you want?" the wheel in my brain started turning and I was wondering what was up.
I told me a brand new, boy, brown chocolate lab and he said "well…. I found a dog for us but it's a girl and she's a black lab. I responded, "well…. just show me a picture". He did.
Then I said, "well… let's just go and meet her. If we go and we love her then we'll get her. If not then she isn't the one."
We originally went to meet a different dog then the sweet one we have now but by the time I got to Petsmart she was already being adopted.
I got to Petsmart before Andrew and started talking with the foster mom and she asked if I wanted to hold her old female puppy. I of course said yes! I was holding this sweet tiny babygirl when Andrew walked around the corner. We locked eyes and I said, "Babe, we have to get her." And we started the adopting papers less than 10 minutes later. That was March 1st.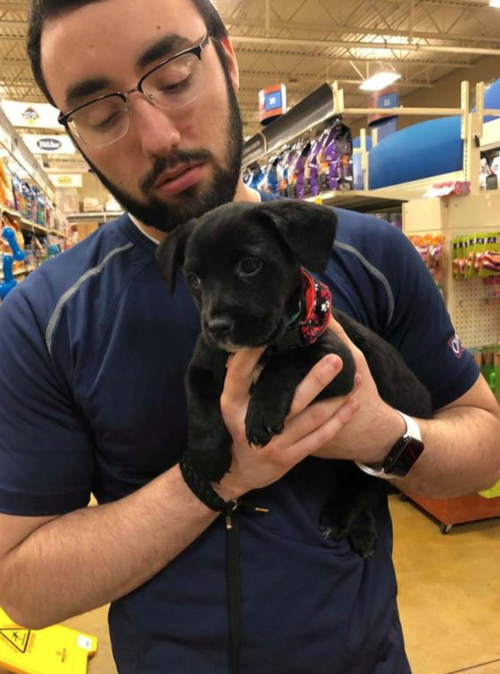 The first day we every saw Bella!
Almost two weeks later on March 13th, we finally got to bring our babygirl home!
She was sooo cute and sooo little and sooo sweet. She was crazy, and rowdy, and adventurous, and curious.
We've had her for about six weeks now. She's learned how to go up and down the stair, she jumps on the bed and the couch! She's getting better with her potty training, she's learning how to sit, and she knows how to play fetch! She loves to eat everythinggg outside, and I mean everything! She loves morning snuggles with mom and nap time with dad. She looks so darn cute when she's napping! She's adjusted to sleeping in her crate (which she hated when we first brought her home). She's been to the vet three times! We've had our first sick scare that left me sobbing on the kitching floor with poor Bella laying in my lap. She gets bigger, sweeter, and more crazy each and every day! She is SO loved by Andrew and I, she is adored by our friends and family, and she is everything we could've ever asked for.


Having my official own dog all by myself (with Andrew of course) has made me realize what a big time commitment and responsibly having a dog really is. She needs someone to feed her and bath her and take her outside and cuddle her and love on her and make sure she has everything she needs. And we get to be that for her. It's insane!
Bella is the complete opposite of what I thought I wanted. The complete opposite of what I had my heart set on for years and years. Yet she is the most perfect and precious thing.
She came into our lives quick and unexpectedly and it couldn't have happened at a more perfect time.
I love this dog so unbelievably much it's ridiculous! I worry about her when I'm gone all day at work and I miss her anytime I leave the house. I get so excited to come home and be greeted with such excitement everyday. She has been such a big blessing in Andrew and I's life.
She is literally our baby! The joy she brings into our lives each day is incredible and she makes us laugh constantly! I think my funniest moment with Bella was last week when she got scared of her own fart! I was cracking up!
It blows my mind literally every day how Bella is so different from the exception of what I thought I wanted in a pup because I couldn't ask for a better baby.
And I think it's a great lesson I needed to learn. To let go of what I think it what I want and accept whatever comes into my path. To release the pressure of expectations and stand ready with open arms for all the things that are MEANT for you. You may be completely surprised at what life has to offer. When you let go of how you think your life story should be written, you allow for the real writing to take place. And I bet it'll take you to some amazing places.